Download Friday : FastStone Photo Resizer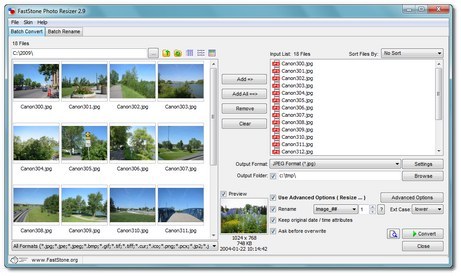 FastStone Photo Resizer is an image converter / resizer intended to enable users to convert, rename, resize, crop, rotate, change color depth, add text and watermarks to images in a quick and easy batch mode. Drag and Drop mouse operation is well supported.
I just started using this program yesterday and I found it oh-so-convenient. Im currently using my SE k800i phone to take all my photos and (like other Sony cameras) the photos are automatically name DSC00001 onwards. I will usually just group it into folders based on the date and/or events.
Using the FS Photo Resizer, all I have to do is select the folder on the right side under SOURCE and click ADD ALL to add all the photos on the INPUT LIST on the left side. Then I just have to set the name of the file then it automatically renames the photos.
Easy peasy.