Of books and online shopping
Someone said that its been a while since I wrote a proper post. Sorry! Been so busy lah :P Main been catching up with all my pending assignments. Have 3 projects this final sem *die!*. One of my assignments requires a short animation in 3d and this is my character, a lego man/robot. Thats a rendering of my character. I had to add knees to my lego man to allow for better movement later when I animate it. This class is really so much fun! We did bones last week and this week we're doing skinning. Its all done in 3ds max 6. I actually have 3dsmax 9 but the lab uses 6 so better use 6 lor.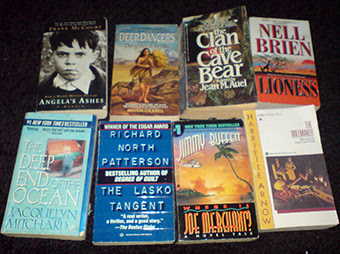 Okay, nuff about school work. I went to the PayLessBooks Warehouse sale last Sunday. It was sooo cheap! Fiction books for RM12 for 5 books and science fiction books buy 1 free 1, even for hard covers. The bf was so excited to see a StarWars hard cover book for only RM18 and a Dick Tracy book. He ended up buying 4-5 books. I ended up buying 8 books- 5 fiction (RM12), 2 science fiction (RM8) and Pulitzer (sp?) Winner book titled "Angela's Ashes" (RM5). Cheap eh? Oh, we also bought this bookabout personalities of guys based on their horoscopes. Really interesting read.
Hurm, what else? Oh yes, I'm currently very addicted with online shopping. This month alone I spent a lot on online shopping. Which explains why Im kinda broke now.  I mostly buy stuff from overseas that I can't get here. This is all from LYN forumers who conduct sprees so that the shipping costs will be cheaper. This is what I've bought as of now:
Biomedics Contact lenses – RM75 for a box <–this one a bit expensive :( found a cheaper shop now
White wallet for my sis – RM14
Sunsilk Hair Mist – RM4 <–I absolutely LOVE this one!
Elf (www.eyeslipsface.com) cosmetics (13 items) – RM100 + USD17.50 <– Decided to spend some money on my sisters about RM50 each and used my paypal to pay for half
Bath and Body Works (www.bathandbodyworks.com) Body Splash (3 items) – RM 90
Victoria Secret Beauty Rush Grapefruit Blast Body Drink Lotion & Double Body Mist – USD 27.90 <–yea paypal again
Whoa, after listing it out then I realized I really did spend a lot of money on shopping. LOL! Thats almost RM400 (or more) there. Okay, enough shopping till the end of the year. At least its way cheaper to pay via paypal then to withdraw it out in RM (this is to pacify myself for spending alot). Haha!
Damn you online shopping!
Opps..time for class. gtg