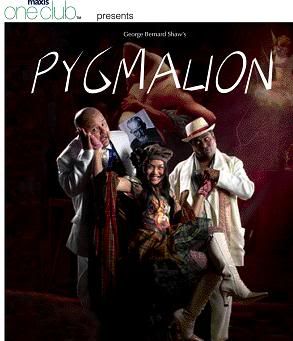 I went to watch Pygmalion last nite with Eawin, Nick but im doubt he's going to blog about it..so no similar topic of posts and Farhan. Laila couldnt make it coz it was raining cats and dogs :(
It was at KLPAC (KL Performing Arts Center) or Pentas Seni KL (tak stim tul the malay name) somewhere in Sentul West (?? im bad at directions). Tix were RM30 (actually RM60, but 50% discount for students) – perks of being a students.
The musical was good, peppered with loads of songs – none repeating too many times – in a medley of English, Malay, Manglish and Cantonese. Its setting is in a typical upper-class English society – costumes were fantastic (and lots of peeping clevage…hehe!) and the vocals were really good.
For details on the musical Pygmalion, check out KLPAC's website here.