The One with turtles and neighbours
I finally bought the turtles i've been wanting for about a year now (i never bought it coz I always had to move house or move state). Havent named them yet. The bigger one is a female and the smaller one is a male i think. And the smaller one likes to dig.
The bigger one (female)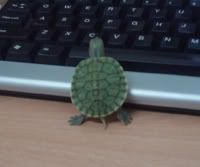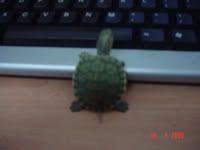 The smaller one (male). Thinking of calling it Digger :D

Both turtles.

I got the turtles in One Utama in this shop near Hinode (that RM5 shop), they were RM6 each. Cute kan!!
The glass bowl thingy i got from Hinode, only RM 5
Blue glass stones from Ikea
Turtle food = RM3.50
Total : rm20.50
…neighbours…
I switched rooms with my younger sister recently (so that when they wake up in the morning they dont disturb me) so its this really small room near the main entrance of my condominium.
So yeah, this "new" room of mine has this window that i realized is facing the room of my neighbour. its like only 3-4 feet away. Yesterday around 11 sumthing i was cleaning my room so my curtains and windows were wide open. Then i saw this guy in the room opposite changing his shirt. ACCIDENTLY OKAY!! but tak sempat see his face!! only see his back.
I never see my neighbours u kno..dunno wat they do or whatever. then again im usually in the house or out…not hanging around in the corridor.
hehe…..manatau can cuci mata sikit :P
…so sweet…
Mag said this really sweet thing today. She asked me to listen to Beautiful Soul by Jesse MacCartney. She said it reminds her of me. I asked why? she said "because you have a beautiful soul." man..that was Sooo sweet.
"Beautiful Soul"[Chorus]
I don't want another pretty face
I don't want just anyone to hold
I don't want my love to go to waste
I want you and your beautiful soul
You're the one I wanna chase
You're the one I wanna hold
I wont let another minute go to waste
I want you and your beautiful soul
I know that you are something special
To you I'd be always faithful
I want to be what you always needed
Then I hope you'll see the heart in me
[Chorus]
Your beautiful soul, yeah
You might need time to think it over
But im just fine moving forward
I'll ease your mind
If you give me the chance
I will never make you cry c`mon lets try
[Chorus]
Am I crazy for wanting you
Baby do you think you could want me too
I don't wanna waste your time
Do you see things the way I do
I just wanna know if you feel it too
There is nothing left to hide
[Chorus]
Your beautiful soul, yeah
~~*~~
Now Listening to: "Beautiful Soul" by Jesse MacCartney