Tech Tuesday:Audio Player
** This post will be written in  BM **
Pernah nampak tak pemain audio dalam blog geng panoda rakan-rakan anda? AudioPlayer adalah antara plugin yg senang untuk meletakkan lagu ke dalam post anda dengan cara yg cantik dan menarik.
Click utk baca cara-cara (step-by-step) utk menginstallkan plugin itu dlm blog anda.Atau download tutorial ini dalam bentuk PDF dari [sini].

Cara-cara install plugin AudioPlayer dlm blog wordpress
**Note** Bukan blog http://contoh.wordpress.com tapi blog yg dah dihostkan sendiri
INSTALLATION
1. Anda perlu ada access FTP ke dlm hosting account anda.
2. Download plugin kat sini >> http://www.1pixelout.net/code/audio-player-wordpress-plugin << dan upzipkan
3. Buka program FTP anda dan buka folder blog anda. Upload files yg telah diunzipkan dalam folder plugins anda (blog >> wp-content >> plugins).
4. Buat satu folder baru dlm folder blog dan namakannya "audio" atau nama lain. (Kalo nak pakai nama lain sila rujuk Step 6)
5. Login ke dalam account admin blog anda, dan activatekan plugin.

SETTINGS
6. Pegi Options >> Audio Player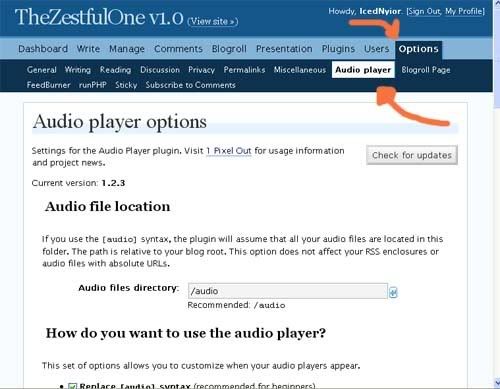 (I) Audio File Location
Letaklah nama folder yg dibuatkan dalam Step 4 tadi.
(II) How do you want to use the audio player?
Anda akan diberi tiga pilihan, sebaik2nya pilih yg pertama sahaja:
(i) Menggunakan syntax untuk meletakkan lagu
(ii) Meletakkan Audioplayer secara automatic di hujung setiap post. Anda hanya perlu letak mp3 file.
(iii) Meletakkan AudioPlayer pada semua link mp3. Akan nampak pelik jika link anda berada di tengah petikan.
(III) Pre and Post appended audio clips
Nie digunakan untuk menambahkan clip audio pada AudioPlayer anda. "Pre-appended audio" tu akan dimainkan sebelum main audio dan "post-appended audio" akan dimainkan selepas main audio.

Selalunya pre dan post appended audio ini digunakan untuk menambahkan welcome message atau sponser message atau cara-cara untuk subscribe pada podcast. Kalo tak nak letakkan audio tambahan, biarkan kosong sahaja.
(IV) Feed Options
Nie utk feeds blog anda. Anda ada tiga pilihan untuk menunjukkan AudioPlayer dalam feeds.
(i) Download Link – untuk memberi link download pada org yg membaca feeds anda
(ii) Nothing – tak letak apa2
(iii) Custom – Meletakkan text. Contohnya untuk memberitau pembaca bahawa ada audio dlm post tersebut.
(V) Colour Scheme
Ini adalah untuk menukar colour AudioPlayer mengikut theme anda. Anda hanya perlu tekan arrow sebelah Backgroud dan tukar hex colour (#000000) untuk menukar warna AudioPlayer.
Tukar warna dalam "Page Background color" mengikut warna background theme atau select option Transparent. Kadang2 audioplayer tak berfungsi dalam Firefox bila dalam mode transparent. Jika ini berlaku, uncheck Transparent.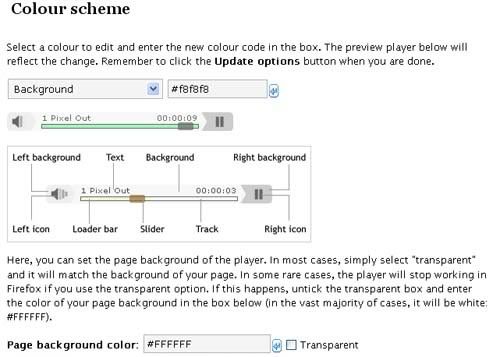 7. Lepas itu click butang UPDATE OPTIONS utk save settings anda
PENGGUNAAN
8. Upload lagu ke dalam folder audio (step 4).
9. Untuk meletakkan lagu dari dalam folder audio dalam post anda, gunakan code ini:
[ audio : nama_file_lagu.mp3 ](tanpa space)
10. Untuk meletakkan lagu dari url lain gunakan code ini
[ audio : http://www.domain.com/path/nama_file_lagu.mp3 ](tanpa space)
11. AudioPlayer juga boleh memainkan beberapa lagu mengikut turutan dengan code ini
[ audio : nama_file_lagu1.mp3, nama_file_lagu2.mp3, nama_file_lagu3.mp3 ](tanpa space)
Selebihnya sila baca di website plugin >> http://www.1pixelout.net/code/audio-player-wordpress-plugin
Dan inilah hasilnya :