(1) Blog 365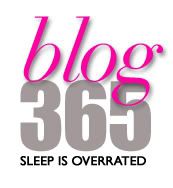 I joined this site http://blog365.ning.com/ on the 3rd of January. What is it about? I guess you could say that this is my new year resolution (tho I didn't officially make any). Its a commitment to blog 365 days in 2008 – which is basically one post a day. So far I have been making good progress. There was a few days that I missed out in the beginning tho :P
Looking back at my previous posts made me realize that it was so enjoyable to read the stuff that I did, said, saw and talked about back then. This blog also kind of serves as my online organizer with important dates and events. I'm sure it'll be nice one day to look back at 2008 and have something interesting to read about each day :)
(2) Biru 2.0 Theme
As you can see, I changed my theme. There was a slight kekecohan about this theme but its all settled now. If it was me, I would probably not like other ppl commenting non-related stuff about a theme which I worked hard to create.
I modified it a bit. I took off a lot of the sidebar items because I didnt like it to look cluttered. Especially the huge RSS button. Will replace it with something smaller later (if ever). I also created my own Single Page (single.php) because I wanted the navigation on the single page to show the title post of the previous and next post (if you don't understand what I mean, click the title of one of my posts and look at the top part).
Anyway, kudos to neutronics for this theme. It has been fixed to be used in IE and Firefox. Oh, Hariz pon pakai theme nie :P
(3) Phuket Countdown
Since we're talking about this new theme, I added a new widget in my side bar, right at the top. Its the countdown to my Phuket trip on the 31st of January till 3rd of February. Im going to be travelling with Pam and Aree. 3 days of fun in the sun with my girls…wheeeeeeee~~
Note to self: need to buy new swimsuit if possible
(4) Ad Free since 2008?
As you can see, this is currently an ad free blog. After that Adverlets problem last week and also the fact that I changed my theme, I have not added any codes. I'm currently dropping "Voogle" ads from my blog because there is no income from there.
There are currently 4 blog ads companies in Malaysia, the two newest being Grab My Ass Ads and Nufflets. The reason why I didn't subscribe to both was because GMA can only add blogs starting with a www which is kinda weird. Might be a technical error but its a turnoff for me. Nufflets…don't you have any other more original name? I have yet to hear positive feedback on it so didnt sign up. My adverlets income is currently stagnant at rm70 – i think so, havent logged in for ages – and it's been at that level for months now. Likewise to Nuffnang.
So basically, I haven't had any income coming in from the companies above. So far all my blogging income has been from writing posts. Perhaps other people have good good feedback from them but not from me. To each his own i guess.
Anyway, that's not the point of my blog. The point of my blog is an outlet to express how I feel – whatever extra I make is just a bonus (and also a way to pay for my domain and hosting – since I get paid in USD to Paypal).
So what do you think of my blog being adfree?
p/s: khai, i pon nak letak byk2 topic dlm 1 post :P
Technorati Tags:
wordpress
,
theme
,
blue
,
blog365
,
ning
,
advertlets
,
nuffnang
,
grab my ads
,
nufflets
,
advert
,
making money though blogging