On the third day of raya, when all the mamak stalls were closed, including our favourite mamak stall, Mosin @ TTDI, we had to find new ports to lepak at to pass the time away.
We finally settled on Syed at Bangsar (no, not Jalan telawi side – where all the clubs are). Im told the briyani there was nice, but i wasnt really in the mood for heavy rice meals. After days of good malay food, i wanted a change of cuisine and settled for western food while my frens ordered Satay (20 sticks) and lots of teh o ais – our official lepak drink :P
When the bill came, we were laughing at it :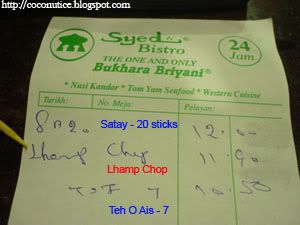 Would u like some fries with your Lhamp Chops?
Lamb Chop was called Lhamp Chop and it costs a whopping 11.90 for 2 pieces of burnt meat with a lousy tasting sauce. Seriously, it was one of the most pathetic and yukky lamb chops i have ever tasted. Even Makanlah – my uni's cafeteria – served it way better and with more meat summore.
Hehehe!