Ok this is the first time im making creme caramel which i got from AuntyN. Tak sangka si Delinn pon wat puding caramel gak. Recipe ada kat link AN tu..tapi i dah omit the jagung. bukan sbb aku allergic jagung..tapi aku suka caramel biasa jek…kalo ngan jagung mcm pelik gitu.
Yang dua org tu..letak recipe…tak letak gambar…so aku letak gambar..tapi tak letak recipe. Linn, lain kali aku try recipe ko laks…
AuntyN's Creme Caramel (nie aku kopipes dari blog ko ya AN :P)
Bahan-bahan
5 biji telur (saiz besar)
1 tin (405 g) susu cair (Ideal yang terbaik lah)
1/2 tin (1/2 dari 500 g) condense milk
7 – 8 sudu besar gula
1 tin jagung (cream style)
2 sudu besar tepung kastard
1 tin air (gunakan tin susu cair)
Cara-cara membuatnya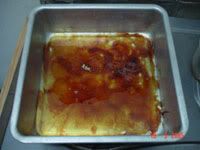 a) Cara membuat gula hangus.
1. Keringkan tin pembakar kek (lebih kurang 9 in diameter dan 3 in tebal)
2. Ambik 2 sudu gula, masukkan ke dalam tin pembakar kek.
3. Letakkan ke atas api yang perlahan untuk cairkan gula seningga gula menjadi kuning kekuningan.
4. Ratakan gula hangus ke sekelilng tin pembakar.
5. Angkat dari api biarkan gula sejuk dan membeku.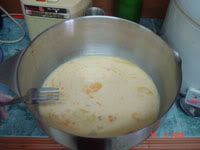 b) Cara membuat Puding
1. Pecahkan telur ke dalam mangkuk yang agak besar.
2. Kacau telur supaya telur merah dan putih tu bercampur rata. Jangan kacau sehingga kembang telur
3. Masukkan cusu cair dan kondense milk ke dalam telur tadi
4. Larutkan tepung kastard ke dalam air
5. Masukkan gula, larutan tepungkastard dan jagung ke dalam mangkung yang berisi telur dan susu.
6. Kacau supaya semua rata.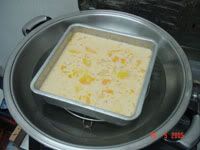 7. Masukkan adunan cecair ini ke dalam tin pembakar yang mempunyai gula hangus beku.
8. Masukkan bekas ke dalam steamer dan kukus lebih kurang selama 30 minit sehingga 45 minit. Api jangan kuat nanti dia jadi bersarang. Slow fire and slightly longer is better.
9. Bila sudah masak, tak nampak cair dah adunan tu, angkat dan sejukkan.
10. Bila dah sejuk terbalikkan puding ke atas pinggan.
11. Hiaskan dengan mix fruit atau sliced peaches yang dalam tin tu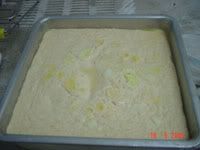 Gambar yg kiri tu lepas dah kukus…….yg kat kanantu lepas aku terbalikkannya….actually aku lupa nak tunggu dier cool down sbelum terbalikkan..so dier hancur skit. Pastu aku lupa lak letak gula dlm step (5) so dier tak cukup manis. Takpe…next time leh try lagi :P
Note : On my 2nd attempt, i tapis-ed the egg and the texture was nicer and smoother.