Sorry sbb ko org yg lain tak dijemput…actually mmg tanak ajak pon…hahahahah *evil gak aku nih weiii*
Aku tanak la ckp bebyk…nak post gambar je terus.
Sorry kat sini takde gambar jalan raya….takde gambar block out muka….takde gambar belakang tudung……takde gambar kipas (gambar piring byk gak)…..takde gambar org botak….takde gambar bunga…..takde gambar muka diputihkan (mcm gambar aku dulu)…takde gambar hotel……smua straight-in-your-face, full resolution, 700×500 pixels gambar. SO ENJOY :D
Kat blog Pu3 ada a few gegambar. Nie gambar dari cam I utk gathering kedua…click to enlarge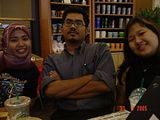 Ok nie aku kopipes dari delinn:
Isnin 30/5/2005
9 pm – Keluar kejap ke ERL utk fetch Coco. Unfortunately, takde ciskek yang dijanjikan sebab dia kurang sihat siangnya. Takpa, no hal. Instead, dia belanja beli mineral water 3 botol besar dan ais batu seplastik. hehehehehehe
10.30 pm – Iza, Erni dan Wan keluar ke Ampang utk hantar Erni. Aku, Puteri dan Coco ke Kota Damansara hantar coco balik. Huh! Penat giler!

Selasa 31/5/2005
3 pm – Headed to One Utama. Made plan bergath untuk kali kedua[habis-habisan nampak gayanya ni! heheheeh]. Calling2 xmen, coco, sue, Bat.
4.30 pm – Lepak kat Starbucks dengan Puteri , Iza, Abe Ali, Xmen, Coco. At last, coco bawak jugak ciskek yang dijanjikan. :D
6 pm – Sue datang. Sambung sesi sembang-menyembang, gelak-ketawa.
7 pm – Keluar ke Sunway Damansara. Lepak kat Restoran Padang Kota utk jumpa Bat dan family yang baru je balik dari family day opis paps dia. Again, sesi diskusi informal. :D
8.15 pm – Aku, Puteri , Iza dan Abe Ali bertolak ke Pudu. Nak anto Puteri balik Penang. Xmen dropkan coco. Sue balik ke destinasi dia, Damansara Damai, Bat ke Kota Damansara.