I bought my first semi precious stone jewelry today. Some people (mostly Chinese) believe that gems are nature's storehouse of energy. Gems have the power and energy to increase one's mental abilities, psychic powers, bring immense good luck, great fortune, eradicate problems, and remove hurdles in all major of life.
Anyway, I was having dinner at the Curve with Aree – whom I haven't met for ages. We had this really filling meal at Sakae Sushi with the bill reaching about 80 bucks. After that Aree was looking for a toilet and she passed by this stall selling gemstones. She started trying on necklaces and earrings
I caught my eye on this anklet. Looked at the price and it was RM60. RM60 for an anklet?!? I looked at other stuff then went back to look at the anklet. Spent like 15 minutes just touching it and walking away. LOL! People say that if you feel drawn to a certain gem/stone jewelry you should get it. So yea, I decided to get it.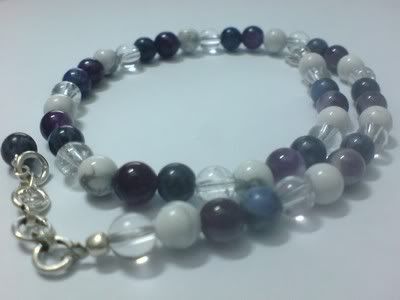 The anklet consists of Lapis Lazuri (blue), Amethyst (purple) and Calcite (white). Apparently Lapis Lazuri is for Love, Protection, Power, Healing, Amethyst for Power, Protection, Healing and Calcite for Cleansing, Healing. But actually what's more important is that I really like it :D
I had to add about 8 more beads (which cost extra) to make it longer and I also changed the clasp and chain to a silver one because I'm kinda rough (no! i dont mean in bed) so I don't want the chain to putus. So all in all, including a discount from the nice owner, it was RM79.
But it was oh so nice…
~~~~~~~~~~~~~~~~~~~~~~~~~
Oh, I was so surprised to receive this in the mail. Its a cheque for USD 31++ from Text Link Ads. Ah, i made a mistake of not setting it to payout to my Paypal. Now I need to bank it in a local bank here and pray that they don't charge too much so that I can still get some of that 30USD. For all I know, I might only have RM30 out of the whole thing. LOL!
Technorati Tags: anklet,power of gems,lapis lazuri,amethyst,calcite,silver,cheque,text link ads,money,blogging,links