UPDATE (22 Jan 09) : The HAPPY rates has been revised. Please click for my post about the NEW RATES @ http://me.zestful.org/2009/01/happy-telco-new-rates-mahal-siot/
I got another number. Yea, besides using my main number (012) and my secondary number (019), I got another 0143 number from Happy (which is actually under Digi). Just for calling out tho, coz its bloody cheap. 1 cent per second with a max of 0.99 cents and a max of 45 minutes. Ha? Tak faham? (Dont understand?) Here's the breakdown:
1 second = 1 cent
2 seconds = 2 cents
3 seconds = 3 cents
99 seconds = 99 cents
100 seconds = 99 cents (max)
101 seconds = 99 cents
2700 seconds (max) = 99 cents
So basically, after 45 minutes (2700 seconds) the call gets cut off. Cheap yes? Of course not as cheap as postpaid lines with free calls/sms/mms Family Plans but still pretty cheap for a prepaid line.
The starter pack is RM 5 (get from most Giant stores in Klang Valley) with a RM2 reload value. 
You can topup at Giant, some Kiosks, some ATMs and some online banking sites [more details]. The pack is blank with no fine print (as you can see from the pic on the left). There's also a bunch of cute stickers they give. Green packaging with red simcard – very christmasy packaging kan?
The people I know who are using it – MohdIsmail, Qai, Empithree, Manchurr, Mixterr & Khai (lerr…scukz down lagi?) – all have high praise for it. However I do have complaints. Digi/Happy take note!
The lack of fine print means that there is no 'manual' for users. How to check credit, where and how to reload, details of charges, etc. Yes I know its all online but not everyone has internet access. My fren actually texted me asking how to check credit.
The ads claim that its only RM0.99 per call – but there is no mention of the limit of 45 minutes. I found out about the limits only coz friends told me. That is why we should have fine print.
Upon switching on your simcard (and thus activating it), you'll receive this message "Your <handphone model> supports GPRS and MMS service(s).For free activation, type Y to 2000…" Note that is says its FREE.
After doing so, check your credit. You'll find that its less RM2. This is my statement from the website. I got my simcard on the 21st at Giant Sunway Pyramid.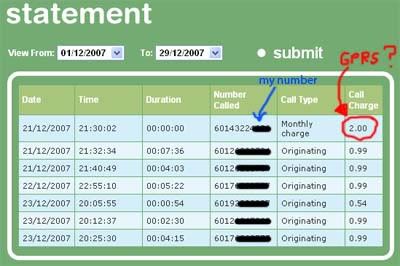 But despite all its faults, its still one of the cheapest prepaids around for calling. So if you get a call from 014322-something-something, its probably from me :)
Edit (19 July 2008): You can only get their simcard from their website. The cheapest is RM30 which has RM30 topup inside so basically the simcard is free. Credit card payment only.
I actually forgot to reload my Happy number for about 2-3 months so the number expired and thus I had to buy a new one. Then I misplaced that one and when I called the cust service, they will not replace the simcard with a new one. So I had to buy another one. I found the simcard eventually tho.
Edit (22 August 2008): Maybank2u payment is also accepted. GPRS & MMS charges are not confirmed FREE.
Technorati Tags: happy,digi,malaysia,telco,pros,cons,advantages,disadvantages,cheap,calls,0.99,sen