HAWA secara amnya merujuk kepada wanita, perempuan pasangan hidup lelaki. Kaum yang penuh dengan sopan santun dan lemah lembutnya. Tema kali ini memilih HAWA, suatu ciptaan indah Allah(Tuhan) sebagai penghargaan sumbangannya dalam hidup para lelaki ataupun kaum ADAM. Jadi sila hasilkan fhoto yang sekreatif mungkin bagi menunjukkan penghargaan anda, jangan submit fhot-fhoto yang tipikal maksudnya fhoto yang terlalu biasa dari segi angle, perspektif dsb.

SYARAT DAN REGULASI…
1. Maksimum 5 fhoto bagi setiap kontributor.
2. Pastikan perkataan "HAWA" disertakan di dalam fhoto.
3. Pastikan ada "caption" yang menunjukkan@mengekspressikan jeritan jiwa fhoto anda itu .
4. Pastikan gambar anda menepati tema "HAWA".
5. Fhoto adalah berwarna.
6. Pastikan ianya hasil fhoto asli yakni yang ditangkap sendiri dan tiada plagiarism. Rujukan boleh, cedok tak boleh.
7. Sila Sertakan "Tajuk Submisi" anda yang bersesuaian dengan fhoto.
8. Sila sertakan URL blog, myspace atau friendster. (ini perlu, setiap submisi kena ada, syarat ini juga kepada oldtimer sebab admin malas nak carik link korang balik. penat).
9. Size fhoto ialah 400×300, 300×400, 450×300 atau 300×450 piksel.
10. Tidak dibenarkan menambah "Border" di tepi fhoto anda.
11. Minor editing iaitu seperti color balance, level, HDR dsb dibenarkan.
12. Jika menggunakan kamerafon, pastikan ianya 2 megapiksel ke atas.
13. Emailkan fhoto anda ke persetankan.fhoto@gmail.com
DFJJ (http://www.persetankan.com) has a new theme. I kind of like submitting photos to their website. Then after that I'll obsess and get really anxious about all the criticism and comments from people. Haha!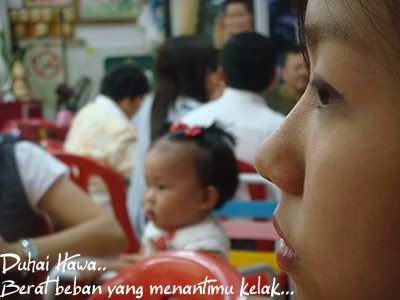 Anyway, here's my first submission for this theme. Click HERE to see all the comments :)