Avoid disaster with IBackup
Don't you absolutely hate it when you get a virus or your hard disk is corrupted and all your precious precious files are lost? Or when you got a lousy msian hosting and your website goes down suddenly coz the company just dissapeared (like in pakngah's case)? That happened once to my 2nd hard drive after my sisters used the computer and I went utterly BESERK because I had tons of files – freelancing projects and uni coursework, vids – TV series, anime, and movies- and lots of music.
Enter IBackup, your solution for Online Storage and backup. No more wailing, crying and smashing the keyboard if your data is lost. They offer storages from 5GB to 300GB to ensure that you'll never lose any of your data and the prices start from $9.95 a month. Not only that you can also apply for a free trial here.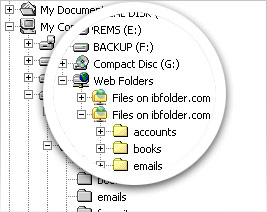 What I really like about IBackup is that its system integrates with your PC so that you can see you online data as a mapped drive or a folder on your computer. With this technology, which they call WebFolders, you can even directly edit your Word, Excel and PowerPoint files which are online from within Internet Explorer or from your desktop. In addition to that, IBackup's desktop applications were tested andfound to outperform the rest by a factor of at least 30-50% more.
So if you want to avoid unnecessary stress and disasters, sign up for Online Storage and Backup with IBackup now!
** This post is brought to you by IBackup.com **