It was a busy busy day yesterday. Stayed up all night due to my "panic attack" incident. Finally completed my research paper around 10.30am then went for brunch with G at Old Town. Pam's addiction to that place has rubbed off on me lah. G drove down to cyberjaya with me – I tak larat to drive that far alone coz of lack of sleep. We don't want this to happen again do we?

Should I buy that orange top? Still deciding
Came back around 1pm and took a short nap. Went back out again at 3.30pm before going out to meet Wan & Syah at who came down from Kedah for a job interview in TTDI. Picked them up and we went to One Utama to jalan-jalan. I just realized that the only time that I go to OU is to bring people from out of town to look see. Don't really hang out there nowadays – Mutiara Dsara (Curve/Ikea/Cineleisure/Ikano) is my preferred place to shop and hang out. Just found out that there is a karaoke jamban & CC on the same level as GSC. Sang a few songs there – actually more like I sang 1 song and 2 guys melalak2.
Went back home, mandi then went to KJ to pick up mp3 & perampok. Lepaked with the jwg guys last nite. As usual I was the only gal – pompuan lain tak tahan ngan perangai derang kot? haha! We went to the usual Kedai Air Buah Keramat. I have no idea what the real name of that kedai but the air buah is cheap and the tauhu bakar is sedap.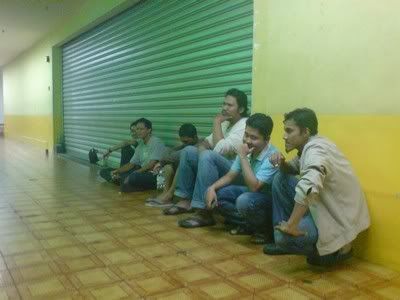 over untuk filem rock 2..the revival of Jiyde & Gayde bara
Then we went to YowChuan to melalak – 2nd time for me in a day. hehehe! Tak puas la melalak 2 jam je :( but it was closing at 3am so we continued on to Pelita for makan2. The usual after-clubs crowd was hustled in after 3.30am. I was quite surprised I didn't bump into anyone that nite. Ohh, there was this lady who is slightly chubby and wearing this really sexy top but the worst part is, she wasn't wearing a bra. So her 'fun bags' were hanging for all to see. I mean if they were perky boobs then nvm la if got no bra, but tergantung2 like that? (Mp3 nyer mata tersembul keluar when he saw that. Haha!)
Overall it was a fun nite. Oh yea, i got tagged by mp3. You wont understand it, its an inside joke.
Tiga Kegunaan James:
– Memberi laluan kepada udara mengalir celah kaki
– Menyerlahkan bontot utk nampak lebih seksi dari biasa
– Memancing – celup James dlm air dan ikan2 akan timbul mcm kena tuba
~~~~~~~~~~~~~~~
p/s: Happy Birthday to Izyan. sorry babe couldn't make it to your party last nite at Heritage Row. I already had plans plus if i went, who's going to send me back? Hope you had a good one!