Remember when I was complaining that I was so tired? Well today I had to pack all my stuff from the computer table I was using. Then I had to sweep and mop the floor. Why? Because I got a new table! Yey!
Went furniture shopping in Ikea and came back with a computer desk/table, a rug and a dustbin. Had to come back, clean the room and assemble the table – with help from Daddy dearest of course.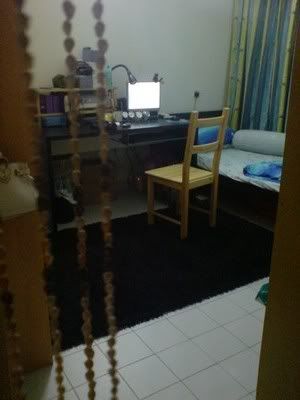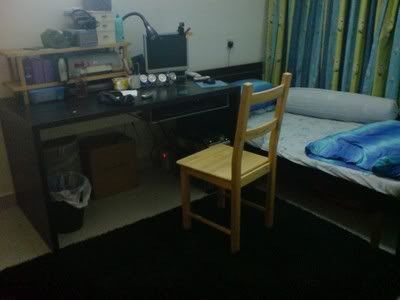 I hang a 'curtain' of shells outside my door. Bought it from Bangkok. It was so cheap there. I changed my chair to a wood one, its more comfortable then the plastic one which sticks to the skin, especially when Im wearing shorts.
Now all I need is a couple of huge pillows :)
~~~~~~~~~~~~~~~~~~~~
Went for supper with Hafreze last nite – or rather, early this morning – at Williams. Had a good talk about blogging, PR, lousy local hosting, girls and err mostly girls :P Sori coz I was late. Thanks sbb banjer :* lain kali leh ler pegi 'dating' gi :P