I went down to KLCC on Saturday morning. Even after Aree, Jazzy and I were partying till 4am. Ib came over at 10am and we went to KLCC :D Met up with some of the guys for brunch then went over to see the blogger guys at Starbucks. Photo credit to Danny (I edited it a bit).
Attendees:
1. cassplayer – http://www.k-tucky.blogspot.com
2. powerfox – http://briandn.blogspot.com
3. dylanchan1688 – http://www.neversatisfiedwithlife.blogspot.com
4. aaron1kee – http://www.ximplixity.com
5. freezefrost – http://www.criticallyacclaimed.info
6. Jenkin_Yat -  http://jenkinyat.com
7. akiraceo – http://www.akiraceo.com
8. jayhan – http://www.jay-han.com
9. etsuko – http://www.dannyfoo.com
10. heavenhell90 – http://www.bryanlyt.com
11. Mikkiz

12. Cat
13. Haza_izzz
14. sassyset
15. PleaseEnterYourName
PC Fair was utterly packed! Meh! Now I remember why I've avoided it for the past 1-2 years. I could hardly walk around. What more with the people all harassing – offering 'antivilus', 'stemix', 'waimax', 'cledit kat'. Yea, thats how they pronounced it.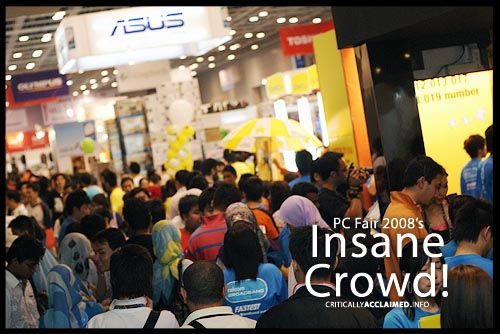 See the crowd! Picture credit to DanielK @ Critically Acclaimed
Oh, there was this guy promoting credit cards and I said 'takpe, student lagi'. Then he said "Betul ke student lagi?". WTF! I said "I tak nampak mcm student ke?" Meh! What I look old?
Didn't buy anything tho. Oh wait, I bought a tub of CyberClean because I really do like that stuff. Sticky and good for cleaning small things. There are lots of nice laptops. The Dell XPS looks nice. Wish I had money to buy all the stuff :(