.: Review :. The Phantom Of The Opera (repost)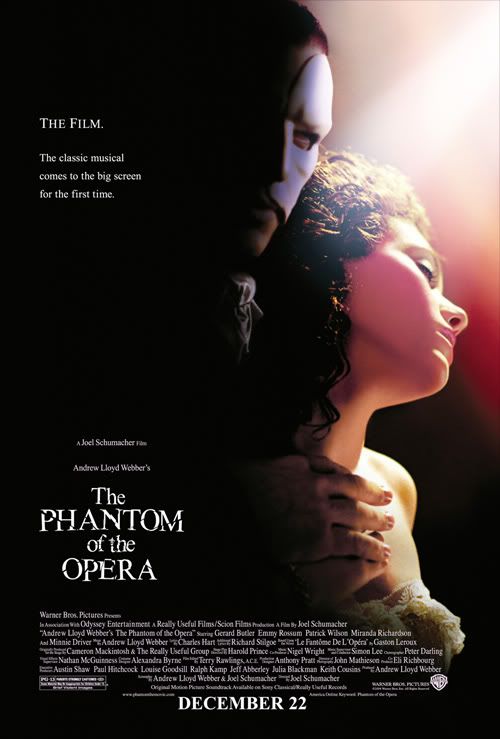 I've watched it on just now, 8.30pm show at TGV Sunway (One U had no tickets). You can read the online review at the bottom.
…my review…
I found this movie very interesting. Christine (played by Emmy Rossum) has a great voice and her acting is pretty good – except for some parts where she looked really weird when she was supposed to look entralled or possesed. LOL! The actor for Raoul looks a bit too young and boyish tho. And the Phantom was too goodlooking ;)
The songs were great. I especially loved the one Christine and Raoul sang on top of the roof. They are all great singers.
If you're the type of person who has read the book or seen the musical and liked it, go watch this movie. It deviates slightly from the book and some parts we cut out but its still good. :D Even my parents – who are not into musicals – enjoyed the movie. The only bad thing they said was that the songs were repetitive.
Please do not watch it if you hate musicals. There was this teenage gal behind me who said "oh please dont start singing again!" and when they did start to sing – like every 5 mins – she would start to sigh loudly. I SOOO felt like turning around and saying "You're watching a MUSICAL for goodness sake! They're SUPPOSED to be singing it!!". But of course I didnt coz im too nice.
…POSTED ON 16th Dec 2004 – 4 am…
(Click the pic below to go to the official website)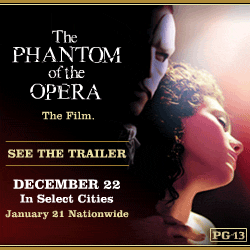 I so can't wait to watch this movie. "The Phantom Of The Opera" by Gaston Leraux (sp?). It's set in the Opera House in France (not so sure if it's still standing now). Here's a rewiew from Cinemaonline.com.my
"Emmy Rossum plays Christine Daae, an up-and-coming talent of the opera theatre. Young, pretty, and with a beautiful voice, she is one of the promising ballerinas under Madam Giry's (Miranda Richardson) tutelage. Just before the company's big opening night, the two new eager managers, Simon Callow and Ciaran Hinds, find themselves in a fix – their temperamental main soprano Carlotta (played deliciously to the note by Minnie Driver) is having another one of her diva tantrums. The managers have no choice but to thrust Christine into the limelight, and she ends up surprising not just herself but her audience and fellow cast members.
In the enthralled audience is her childhood friend and the theatre's wealthy patron, the Vicompte Raoul de Chagny (Patrick Wilson). But Raoul is not the only one mesmerized by her lovely voice. The phantom of the opera, a disfigured musical genius who haunts the catacombs of the theatre, is also smitten. Furthermore, he claims personal credit for her fine voice, and proceeds to take Christine under his wing.
Even as Christine is lulled into a drunken euphoria every time the phantom sings to her, she is increasingly drawn to the ravishing Raoul. Initially, her heart cannot betray her 'Angel of Music' who has so faithfully trained her voice. However, it doesn't take long till the two fall in love, much to the furore of the phantom. It is this escalating anger which plays the backdrop to a terrifying tale of intense jealousy, obsession and passion."
So there we go, a love triangle set in the Victorian-era. I loved the book even after I had to do a book review on it for Academic English last year (carried a major percentage of overall marks). Armed with the full-english-version of The Phantom of The Opera, it took me more or less an hour to read the whole thing (i devour books like I drink water) and 1-2 weeks of analysing the plot, characters, meanings, ect and write a seperate review and re-interprete EACH paragraph (30++ if im not mistaken). Nuts, but worth it, coz i got something like a 17-18 out of 20….bangga lah :P
Oh well, this show opens today (its 5 am Thursday) and I hope I'll be able to watch it tonight. However i did read reviews that the music/lips coordination was bad. Hmm…..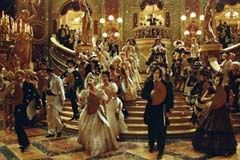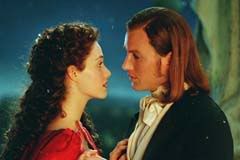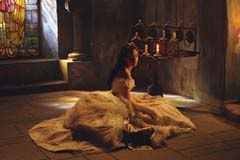 p/s: in case u were wondering why im up early…well, i was studying for my Business Mgmt paper at 2pm. Then i have an IT paper at 11 am Friday. Just took a break to post this up and then im going back to my books. :D