Through the Rain – A Compilation CD from Oops Asia
(recieved through email)
In case you haven't heard, we released a compilation CD entitled 'Through The Rain' on 26 January 2005 in response to the Asian Tsunami. It features brand new tracks from Patrick Leong, Altered Frequency & Liang, plus 'Only in the Dark' from Juwita Suwito's debut album. These songs are already getting airplay on radio. Each track speaks of hope in times of trouble & uncertainty… excellent gifts for your oikoses. Priced at only RM10, 'Through The Rain' is available at the following outlets:
* Canaanland
* Glad Sounds
* Victoria Music Centre
* Power Station
* Pennylane (Subang Parade)
* In-Kafe (opposite Taylor's College)
* The Mustard Tree (Ampwalk)
* Sutera Harbour gift stores
The EPs are also available at selected Christian stores in Hong Kong. Get a taste of 'Through The Rain' by logging on to www.oops-asia.com/index.cfm?pageurl=audiovideo.
All proceeds will go towards long-term rebuilding projects. Log on to our website and participate in our poll to determine the recipient of the funds we are collecting.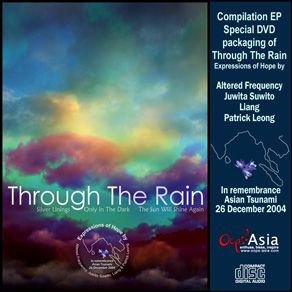 Keep May 1st free because the entire Oops! Asia family will be holding a FREE concert in collaboration with Youth Prayer Wave & Youth Alive for the 'Heal the Nation' campaign. The concert will be held on Sunday, 1 May 2005 at Maranatha Hall, Glad Tidings Petaling Jaya. The concert will feature music from 'Through The Rain' with dance performances by the Eximius School of Performing Arts plus BIG other surprises. Definitely an excellent way to spend the evening out with your friends… and all for a good cause! Keep your eyes peeled for more news on the event.